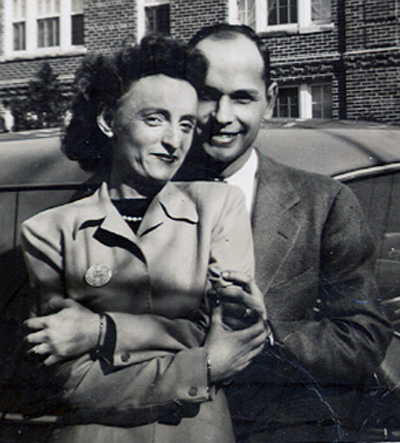 THE COURTSHIP OF JOSEPHINE & KIMBALL 
It was 1947 and America had saved the world. The generation that had known the hardship of the Depression throughout their childhood, then the honor of sacrifice during the war years, were eager to begin living what they expected  to be  the good life.
Helen Josephine Bergere, who went by the name Josephine,  was an Irish-Catholic girl who only wanted to get out of Brooklyn, marry a handsome war hero,  and raise a family in a nice home. But for now, she liked her job.
She was Barrett Herrick's personal secretary. He was a gregarious, silver-haired bear of a man and president of  Herrick Stock and Securities Ltd., a successful brokerage firm on Wall Street. Every morning at eight o'clock, she'd come into his office, hand him his cup of black coffee and take dictation. She was the best secretary he ever had. She could type 95 words per minute, take dictation at a 120 words per minute. They devoted the first hour of each day to dictation, because after nine o'clock, the Street started business—Barrett would be on the phone,  and the stock-tickers, sounding like a  relentless symphony of metallic castanets,  began spitting out their narrow ribbons of paper tape.
One morning, in early December of that year, when Barrett had dictated the last of the morning letters, they discussed the annual Christmas party. The company had offices in Washington D.C., Philadelphia,  Kansas City, Chicago and Dallas, and everybody took  trains to Manhattan for the company bash.  Barrett was particularly enthused about this year's Yuletide celebration. Business had been good,  and his son, Kimball, a decorated Marine Corps captain and Wharton Business School graduate, had been discharged and was home for the Holidays for the first time in four years. He had joined the firm, heading  the D.C. office.
Three months before, Josephine had met Kimball, and was certainly impressed. He wore his  dress-blue Marine Corps uniform,  stood straight as a telephone pole and his body was tone and muscular from fighting the Imperialist Japanese armies in the jungles of the South Pacific. Barrett  was beaming  the day his son came into the office. He was excited that his only off-spring had come back alive and unharmed and proud that he served his country like Barrett had done in The Great War and their Herrick Forebears had done in the Civil War, the War of 1812 and the Revolution.
Kimball was shier than his father, but he still could smoothly issue compliments. When they were introduced, he said that his father could not run the place without her. He also mentioned how stylish she looked in her matching pillbox hat and dress. Her mother and father, and sisters and brothers, who all lived in  a two-story  Brooklyn brownstone with her, never complimented her about anything, even though she spent hours making her self presentable for Wall Street each day.
"Well, Miss Bergere," Barrett said, leaning back in his chair that December morning, "those letters should be sufficient for today. Now, let's discuss the party. I love Christmas. My employees deserve the best Christmas party on The Street. This has been one of our best years. I never thought peace would be better for business than war, but thank God it is."
"Yes, thank God, Mr. Herrick," she said, then went over the schedule for the Christmas party, a gala affair to be held at the Warwick Hotel. The festivities would include an extravagant lunch, a barber shop quartet in Dickens-era garb to sing all of Barrett's favorite Christmas Carols, a piano player to fill in the gaps when the quartet wasn't singing, and a  comedian who would dress as Santa Claus and tell tasteful jokes at the party. Most important were the Broadway tickets. Employees had the choice of either Brigadoon  or Finian's Rainbow.
"Miss Bergere, I recommend you go to Finian's Rainbow, you owe it to your Irish heritage. It's a wonderful entertainment. If you like, you can have an extra ticket for your beau."
"Oh, I'm Beau-less, Mr. Herrick. I broke it off with Jack."
"I'm sorry to hear that," he smiled. "But to tell you the truth, I was afraid when you visited him at Fort Dix you would come back engaged and I would loose you."
On the day of the party, the Christmas cheer was highly contagious. All the secretary pool girls received Poinsettia corsages and the sales department kept insisting everyone sing Good King Wenceslas, again and again. Kimball walked across the crowded room to Josephine and asked if he could get her a glass of punch. She said yes. Over their drink, his compliments made her blush, then he asked which play she decided to go to. Finian's Rainbow, she replied.
"Oh, I'm going to Finian's too, my father keeps raving about it," he said. "Would you like to have dinner with me before the play."
She paused. He did not blink; the resolve he learned in the Corps enabled him to conceal his nervous anticipation to her response and to suppress the urge to clap his hands with joy when she replied, "I would like that."
They went to a Theater District restaurant for steaks, and over their daiquiris—she always ordered a daiquiri before dinner—he suddenly leaned across the table and kissed her on the lips. He was relieved when she smiled afterwards.
"I hope you didn't mind," he said.
"No, I didn't mind… at all," She replied softly. She did not mention that she never let boys kiss her on her on the first date. She rarely let them kiss her on the second date, and she never went any further than a kiss. She liked the kiss very much, although she realized she would have to say an extra rosary before mass that Sunday.
After the play, they wished each other a Merry Christmas. She told him that she was taking a vacation in Florida in January with her Friend Doris. This meant they would not see each other for a while, but Kimball knew about the train, and said that he could meet her during the 15 minutes the train was stopped in D.C. to receive and discharge passengers.
Every work day, between the party and her departure for Florida, a small envelope for her would be in the package the company's courier service delivered from the D.C. branch. Inside the envelope was a touching note from Kimball, some complement about her red hair or her hazel eyes or simply,  'thinking of you.'
The worst blizzard of the decade hit on January 24, 1948,  the day Doris and Josephine left for Florida.  The stormed  dumped a record amount of snow on the northeast before it blew out to sea, and  four inches of slush covered Manhattan by the time the train finally left Grand Central Station. It was three hours late arriving in the Nation's Capital, but there was Kimball, shivering on the platform, wearing his long coat and fedora. In his rush to meet her, he had forgotten his scarf and gloves and his shoes and socks were still damp from trudging through the drifts on the way to the station.
Doris went to buy a magazine, while Kimball and Josephine talked. Between his nerves and the chill, Kimball could not stop shaking. "There is something I have to ask you. Does your religion have any sort of rules against marrying Protestants."
"I don't think so. Protestants still believe in Jesus Christ."
"I believe in Jesus, but I wasn't really raised in any particular form of Christianity." After a sneeze, he continued, "So, Catholics are allowed to marry outside the faith?"
She was perplexed at his line of questioning, "I believe they are, as long as the ceremony is performed by a priest and some sort of document is signed promising  the children will be raised Catholic."
He seemed pleased. "That's good. I would like to have a lot of kids. I didn't like being an only child. A strict religion like Catholicism instills strong moral values and a sense of obedience."
On the train headed south, Doris waited a long time before asking her friend, "Well, how did it go with Kimball?"
"Oh Doris," she said, gazing through the window at the night filled with snow. "He said he would be at the station for the train ride back. I think he's getting serious."
"Don't be silly, Jo. You've only had one date."
The day before they left Florida, a telegram was delivered to their hotel room. "Have  102 degree Fever.  Deeply regret that I can't  meet you on your return trip. Can I take to you dinner  on St. Valentines Day? Sincerely Yours, Kim."
When she read the telegram she felt sad that she would not see him, and also guilty. Waiting in the cold, drafty station for the delayed train had made him sick. But how many other men would have stood around freezing for three hours just to spend 15 minutes with her?
Unfortunately, Kimball was still feverish  on February 14th and their date was postponed until the 27th.  After work that day, Kimball arrived on the train from D.C., presented Josephine with a small bouquet of violets, and they took a cab to the Astor Hotel. The Maître De greeted the couple warmly, asked Kimball how his father was, and reminded him to pass along his regards. Then he told Josephine that she was the most beautiful woman in New York City tonight.
Josephine  wasn't sure why, but  she felt nervous and talked more than usual. Faster too. Over daiquiris, she described the week in Florida, how exhilarating it was to go swimming in the middle of the winter. Then she told him how she and Doris were planning to take a summer vacation in the mountains, and that in the fall she was planning to go overseas to visit her brother Kenneth, who was stationed in Germany.
"Slow down," he interrupted. "If I don't ask you this now, I think I will burst. Jo, I want to buy a house in the suburbs and raise a family and I want to do it with you. Will you marry me?"
She was stunned and after a few, excruciating seconds, said, "I guess so… when would you like get married."
"How about March?"
"Next month? Oh, Kimball, that's too soon to plan a wedding."
"April?"
"No, April is Easter. I don't want to have a wedding when there is a holiday in the same month."
"Would you like to be a June bride?"
"No, my birthday is in June. I don't want to be celebrating our anniversary the same time as my birthday."
"How about May."
"Well, I don't have anything planned for May."
"Okay, May 1st."
"Isn't May 1st some sort of Communist holiday?"
"You're right. That wouldn't be a good idea. We can't be celebrating our anniversary the same day as those Godless hordes.  How about a week later."
"May eighth? That sounds all right," she grinned. "I don't have anything else to do."
So it was agreed. Kimball unclipped his fraternity Pin from his lapel, and pinned it near the collar of his new fiancée's dress. They looked into each other's eyes.  Then she kissed him.
As the couple finished their drinks, Kimball asked, "What should we do now?"
"Let's eat our dinner, then I think we should go to Brooklyn so my parents can meet you."
Later that night, after Anne and Louis Bergere were introduced to the young man, who in a tradition that has just about disappeared from the culture, asked Louis for the hand of his daughter in matrimony, they bid farewell to their soon to be son-in-law and watched him walk into the shadows of President Street. Louis put his arm around his youngest daughter, and said, "Josephine, out of all the boys you ever brought home, he's the only one I liked."
And on May 8th, 1988, after America had withstood the bankruptcy of Herrick Stock and Securities Ltd. as well as the shock of the first generation of  American Herricks—a family who could trace their roots to the Mayflower—being raised to believe in papal succession and transubstantiation, Kimball and Josephine celebrated their 40th anniversary in Sturbridge, Massachusetts, a vacation their six children gave them as a present. In the Honeymoon suite of the resort, Josephine turned to her husband and said, "You know, Kimball, I never really said yes when you asked me to marry you."
He chuckled, "I admit it, I rushed you."
"Well, I'm glad you rushed me. I would have said yes anyway."
Copyright 1998, held by author